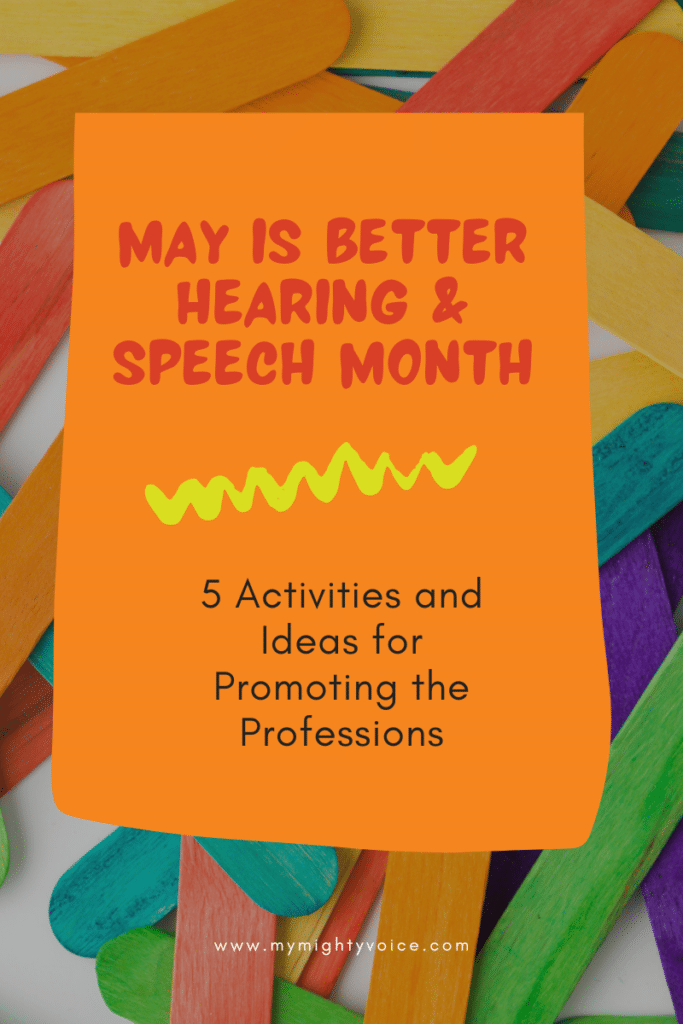 Offer to Present To a Class
May is Better Hearing and Speech Month, and let's be honest, at the end of the school year classroom teachers are always willing to have others come into their classrooms and present. This is your chance to do teach kids about their hearing and preventing hearing loss, or to talk about what stuttering is. Maybe you play bring in your giant mouth puppet and talk about basic physiology & anatomy for speech, or play a Bingo game about hearing devices. Think about the speech, language, and listening challenges where you work, and where you feel like you could offer a teacher or classroom some support. Better hearing and speech topics are relevant to all of your students!
Create a Bulletin Board or Door Display
If you're the creative type, creating a bulletin board or door display might be the perfect way to celebrate Better Speech and Hearing Month (BHSM). You could explain what speech language pathology is, or to help others understand speech & language disorders. You could create an overview of different disorders, or dive deep into one area of expertise. ASHA usually offers a bunch of different media during Better Speech and Hearing Month that you can download for free. If a door display or bulletin board seems like too much, have your students color some Better Hearing and Speech month coloring pages, or put up some of the posters or signs that ASHA provides.
Share info with Your Colleagues
If you have regular staff meetings where you're asked to share, or a monthly newsletter, Better Hearing and Speech Month is the perfect time to talk up speech language pathology, and share your knowledge and expertise. Signs and symptoms of a language delay might be a great place to start, or a specific topic your colleagues are always asking questions about (or you wish they were asking questions about!) Even a quick email highlighting some of the things you've accomplished during the current quarter or year might help to increase their understanding of speech language pathology and the profession.
Send Something Home
Better Hearing and Speech Month is the perfect time to reach out to your families and send home the signs and symptoms of a language delay, or how to find early intervention services. Think about the things you want your families to know, but maybe don't have time to communicate during your sessions. Preventative strategies or ways families can be supporting younger siblings with their speech and language are also a great idea for a brochure or handout you send home.
Share on Social Media
If you have a social media account, May is the perfect time to share those speech and language facts, checklists, or other tidbits you've been saving. It might be a blog post on a communication disorders topic you've been thinking about, or a checklist of early listening skills. Maybe you create a graphic talking showing how loud certain sounds are, or a "Did you know?" post highlighting some facts and figures about communication disorders.
However you share, don't let the month of May and Better Hearing and Speech Month pass you by. It's our chance to show our families, colleagues, and supervisors just how valuable our work is, and how knowledgeable we are about communication and communication disorders.